How to start with leather crafting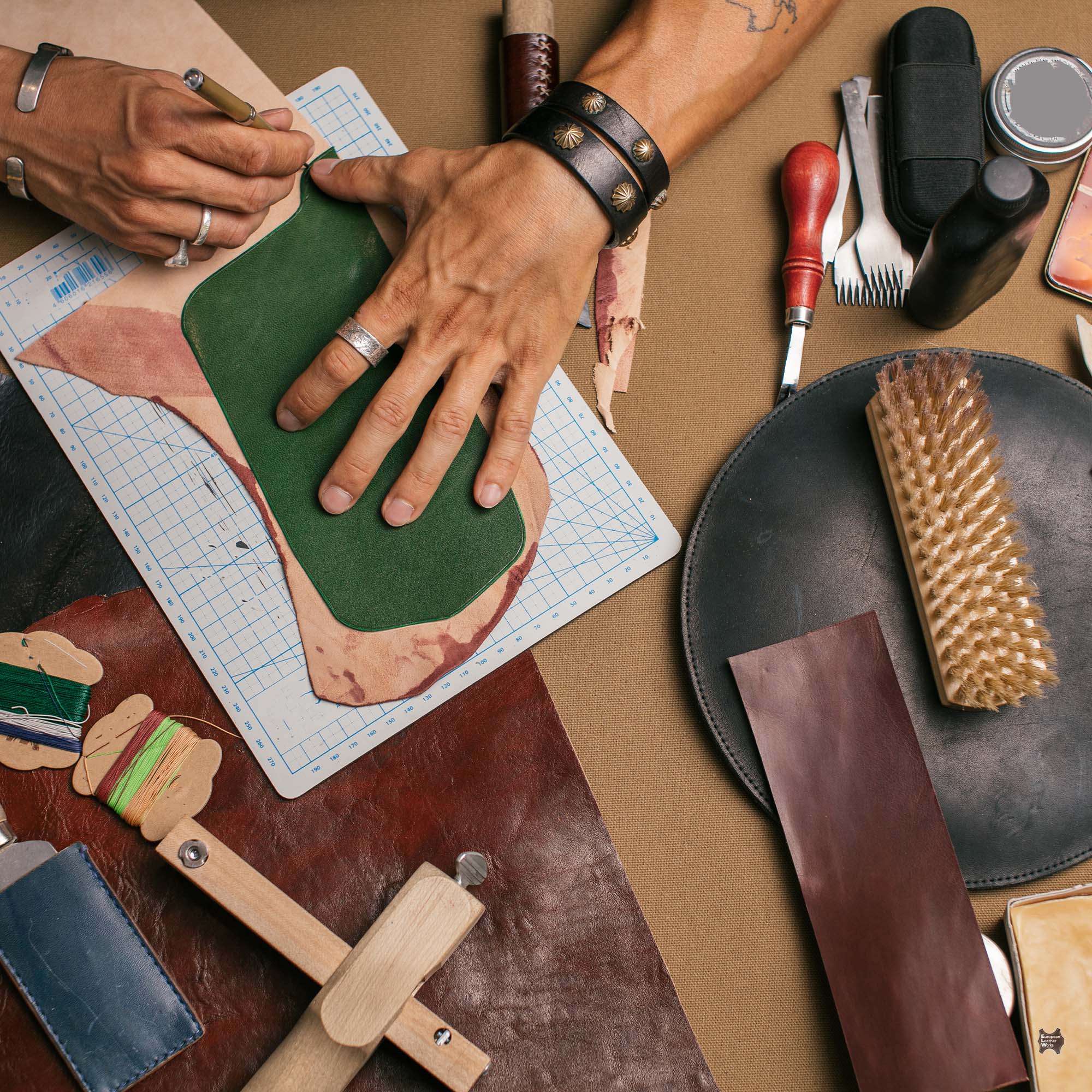 If you've been a leather enthusiast since time immemorial, you should have thought about creating your own leather pieces. It sounds quite hard work, which it is, but is totally worth it!
Leather crafting, also known as leather working, is the practice of making leather into practical objects or artwork, using molding, dyeing, carving, stamping, and fabrication techniques.
Leather crafting is a skill that can easily be learned/mastered that is relatively cheap in terms of material costing. But how exactly do you learn leather crafting. 
Start with a simple project. 
The best thing to do when you're just beginning is to make something that interests you.
Not only does this help keep you passionate about completing the project, but it also helps you narrow your focus on a few leather working skills instead of being overwhelmed by them all at once. 
Pick something that is smaller and simple to make, so you can find out if you like leather working before you make a large investment.
It is highly recommended to use tried and tested leather tools. Ask experts about which leather tools you need to invest in before you start with any project.
If you're having trouble thinking of a project, here are a few suggestions: a wallet, a cardholder, a watch strap, a journal cover, a bracelet, a sunglasses case, a belt, or a dog collar.
Know the materials needed for this type of crafting.
Now that you know what skills are needed to complete a project, you should have a basic understanding of what tools are needed for the project as well.
The most basic projects will need the following:
a knife
glue
needle and thread
diamond chisels
a hammer
a ruler.
Chances are that whatever you're making will need a few additions to that list. Check out this list of basic leather working tools to know what's at your disposal, and to understand what leather working skills require which tool.
Here are a few examples.
Awl - An awl is a tool with a metal point used for marking, piercing, punching, or sewing leather.
Beveler - A beveler is a tool with a metal blade that is used to remove the square corners from the edges of leather goods.
Burnisher - A burnisher is used to smooth and harden the edges of the leather. It is usually made of wood and smooths leather through applied friction and pressure.
Cutting tools - There are many different tools you can use to cut leather, and the right one will depend on the project you have in mind. You can use a strap cutter to cut straight lines and pull straps or a rotary cutter to slice curves.
Leather glue - Make sure you are using glue that is specific for leather and suede.
Maul - This is a striking tool mainly used for stamping, tooling, setting rivets, and more. It is made of a head and a handle, similar to a hammer and mallet.
Pricking iron and chisel - Pricking irons and chisels are tools that are used for marking and creating holes in leather. They are built with equally spaced metal points.
Punch - A leather punch is a hole punch specifically for making holes in leather. They are great for setting rivets or making holes in belts and collars.
Skiver - A leather skiver is a metal tool used to remove and shave thin layers of leather material off of the surface.
Stamp - Leather stamps are made of metal and are used to create designs on your leather's surface.
Sewing tools - You will need to gather needles, thread, and tools to hold leather while you sew when sewing leather.
Cutting mat - Before cutting your leather with a utility blade or rotary cutter, set up your work surface with a cutting mat to protect the table.
Learn the basic skills and techniques in leather crafting.
There are a number of basic skills in leather working that most projects require. These skills include saddle stitching, cutting, and edge finishing. Then there are more advanced skills that not all projects need to complete and have more to do with refining a project or larger projects in general. 
Some of these include skiving, knife sharpening, and stitching for more unique situations (i.e., box stitch). Try to choose a project that just has these basic skills.
An overview of each of the basic skills and tutorials on how to do them are part of this beginner's guide. The more advanced skills are talked about on the blog.
Research on the type of leather to use.
Here are a few important skills in leather crafting:
Sourcing leather for crafting
Preparing your leather.
Cutting your leather
Leather working skills and techniques
Gluing leather
Casing leather
Saddle stitching leather
Burnishing leather
Skiving leather
There are many different options when it comes to choosing the leather you want to use for your project. It is important to note that every project you want to do may require a different type of leather. It is best to know which leather works with what to help you arrive to the best results.
With an understanding of what project you're going to make, the things you'll want to look for are tannage, weight, temper, and finish.
ELW Shop offers a wide range of leather pieces you can choose from for your first DIY project.
Another great leather project to start with is crafting home decor or accessories using leather scraps. Leather scraps provide an authentic and raw look to your pieces, giving them more originality than ever. Use your creativity and imagination when using leather scraps to create something with depth and character.
Get high-quality leather scraps here.
Good-to-know leather facts
Leather made from cowhides is the most widely available and versatile type of leather.
The most common types of leather used in leatherworking are veg tan and chrome tan. The main difference between these two is the tanning process.
Veg tan leather is tanned with tannin-rich vegetable oils that have been extracted from tree bark. This type of leather typically takes a longer amount of time to create. It is considered higher quality in comparison to chrome tan.
Chrome tan leather uses chemicals to tan and is a faster, less costly process. Veg tan leather is typically thicker and more durable, while chrome tanned leather is thin and less durable.
Leather sizing and measurement are also crucial when picking which one to use for your project. To know more about this, check out our leather size guide.
After you've done your research, you can start shopping for the type of leather you prefer for your project. Shop high-quality leather pieces for crafting from ELW Shop.