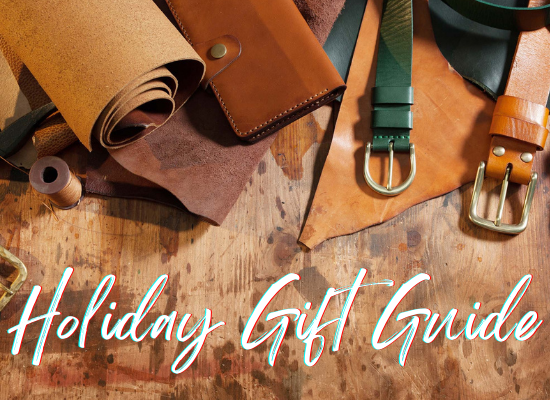 It's that time of the year again.
Have you started shopping for the holidays just yet?
If not, we've got you! Buying gifts for leather crafters and even leather lovers need not be a struggle. This holiday leather gift guide will make sure everybody opens their presents with the biggest smiles on their faces.
Perfect for all Leather Craft Projects Perfect for Tooling, Engraving, Stamping, Molding, Dyeing, Crafts.
Made only with the highest quality leather, go the environmental route when you choose vegetable tanned leather belts!
Perfect for people who are into leather belts, straps, and other DIY crafts.
Full Grain Leather Grass Feed Cowhide Finish Hot Stuffed with Oils & Fat Liquors for added Strength. They also make an ideal gift for friends & family who are artisans or someone that loves working on leathercraft projects.
Make these into belts, Saddle Bags, tack, sofa accents, bag straps, gun holsters, bar stool covers, Knife sheath, Gun holsters, Guitar covers, Shoes, Insoles, Hat liners, COSPlay Outfits, Ancient Leather Armors, Jewelry Boxes, Map Tube Boxes, Insoles, Shoes, Hats, iPad & Notebook Covers, Cell Phones Cases.
This All-Natural Grain Leather piece of leather is supple yet durable and perfect for your tooling, carving, upholstery, arts and crafts, and molding.
The tooling leather is thicker, more robust, and less prone to cracking and damage. The cowhide leather material is durable and lasts longer in comparison to the fabric.
Genuine cowhide full-grain leather with no unpleasant odor to provide you relief from leather conditioning. Made with the highest quality of leather, this leather square has got the perfect thickness for crafting journal and notebook covers, creating small cases for your electronics.
Great for key fobs, moccasins, billfold backs, masks, belt and purse linings, inlays, patches for repairs, and much more.
Available in Bourbon, Tobacco & Whiskey Brown colors - This Full Grain Leather Grass Fed Cow Hides are Oil Tanned, perfect For Tooling, Carving, Molding, Craft, Hobby, Sewing, Pyrography, Knife Sheaths.
The leather has a matte texture between the surface and Crazy Horse leather feels smooth, soft to the touch, wrinkle-free, and has some water resistance.
From our grass-fed flock, ethically raised and humanely harvested and hand-tanned locally by God's Creation SUN dried.
Leather scraps are also popular for beginner leather crafters. They also come in bundles, like in this one.
Bundled leather scraps don't scrimp on quality, they're just as versatile as the other pieces.
Each Bag of Scraps is a Mix weight 2-10 oz. (.8-4mm) Thickness Vegetable Tanned Leather with sizes from 2 to 10 lb.
We are not able to guarantee any specific size scraps. Most pieces should be bigger then 4"x4".
Available in a variety of colors, these pieces can be used for small projects like key chains, pen holders, mug sleeves, etc.
Why choose ELW Leather Pieces
Our leather is ethically sourced from tanneries worldwide that use an environment-friendly tanning process, ethically treat the animals, & our hides are always selected from top-quality pieces.
With us, you'll discover the best leather you need for your tooling, molding, engraving, stamping, crafting, hobby, & workshop projects. For more products to love, check out our collections here.